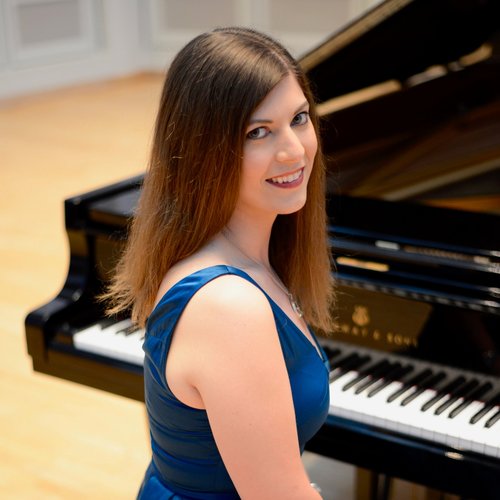 Studio DiPaolo is a premier online-only music studio offering lessons in classical piano, music theory, and classical music composition to students of all levels ages 10 and up. Instructor Nicole E. DiPaolo holds degrees from the University of Michigan and the Indiana University Jacobs School of Music, and she has performed as a solo/collaborative pianist and composer internationally. Lessons are available in English or Spanish.
Learners from all over the world and of any level may join Studio DiPaolo via Zoom technology as long as they have an instrument at home (if applicable) and reliable Internet access. Ms. DiPaolo combines a friendly and supportive atmosphere with high musical standards and offers instruction in either English or Spanish. Please note that beginners need to be age 10 or older to join StudioDiPaolo unless they are of exceptional academic accomplishment (at a fifth-grade level, roughly), have additional musical experience, and are known to enjoy the online format.
In addition, Ms. DiPaolo also offers online instruction coaching for fellow music teachers looking to transition from an in-person studio to a partly or fully online studio environment. Please inquire via the Contact form if that would interest you!
Ms. DiPaolo is also available to perform classical repertoire solo or collaboratively (accompanying) throughout the Cleveland and Akron areas. Please inquire for rates.
Studio Website: http://studio-dipaolo.weebly.com
Address:
3675 Warrensville Center Rd. Ste. 202051
Warrensville Heights
Ohio
44122
United States